Posted:
Monday, September 27, 2021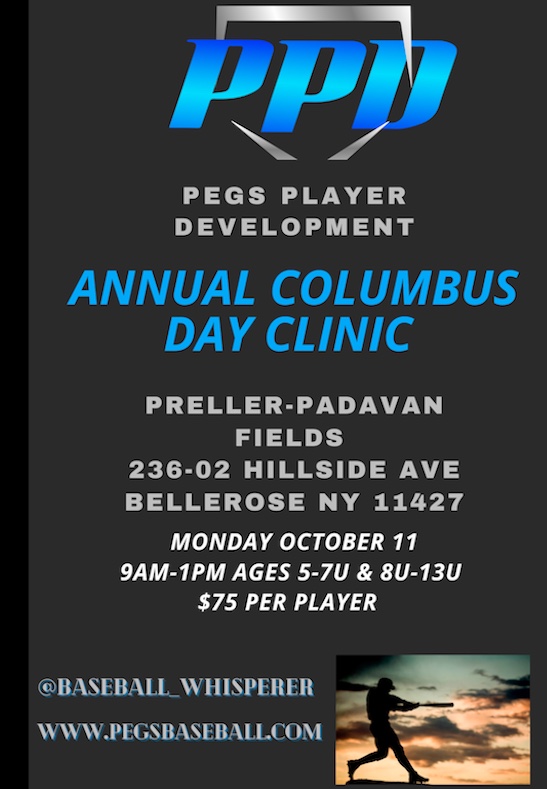 PPD clinics are designed to help young athletes understand beginner fundamentals required in baseball and athletic performance. The earlier we can offer these skill sets to the youth of sports, the more rounded they will become. This will develop a better understanding on how to hone their athletic abilities and how it relates to baseball. This is only the beginning of developing an athlete. Just as it is important to develop physical skills and athletic abilities, it is equally as important to develop a mental understanding of what it means to be a baseball player and on a team. This area of athletic development will be accomplished with baseball activities to instill good character, goal setting and an understanding of teamwork and team
COLUMBUS DAY CLINIC-MONDAY OCTOBER 11 9AM-1PM
AGES 5U-7U, 8U 13U
PRELLER-PADAVAN FIELDS
236-02 HILLSIDE AVE
BELLEROSE NY
$75 PER PLAYER 
Health Certification and Disclaimer:
My son/daughter is in good health and has my full permission to participate in a vigorous clinic program. I understand that participation in any sports program carries the risk of injury. If medical attention beyond first aid is required, and I cannot be reached at the emergency number provided, I give permission for medical attention to be administered. I understand that it is my responsibility to inform PEGS Baseball Training of any physical, mental, or emotional condition that may prohibit my child's participation in clinic activities. I also understand that PEGS Baseball Training and HBQVB Little League are not responsible for lost or stolen items, and I give my permission for any photograph taken at the camp to be used for publicity purposes only.
I further understand that there is a risk of injury related to participating in the baseball clinic and agree that the facility at which the clinic is held, PEGS Baseball Training, LLC their respective employees, agents, subcontractors, and representatives are not liable or responsible for any injuries or damages to person or property that may occur involving my son/daughter.
I hereby indemnify and hold harmless the facility at which the clinic is held, PEGS Baseball Training, LLC and the staff of the baseball camp, their employees, agents, subcontractors, officers, directors, and staff from any liability arising out of the participation of my son/daughter in the baseball clinic. I hereby advise the officers of the facility and baseball camp that I / we have adequate health insurance to provide for and pay for any medical costs that may directly or indirectly result from the participation of my son/daughter in this clinic.
By submitting the below registration you agree to this statment: I have read and understand the above statements and would like to enroll my son/daughter in the Columbus Day clinic.